---
School of Dance Glyfada – Aliki Diamandi
As a start I am a human being and then an artist. As a person my first obligation is the wellbeing of my fellowmen. My contribution in the peace of the world might be small. I contributed though what I could in one idea, which is sacred to me.
                                                                                                                         PABLO CASALS – TIME – 5/11/1973
    O.P.C. Denied to play in public due to the whole time of dictatorship in Spain.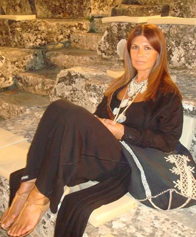 ALIKI DIAMANTI
Curriculum Vitae
---
Aliki Diamanti started dancing when she was 4 years old at the Pat Lavda and Morianiova schools of dance and Morianova. She studied dance in the Top Professional Dancing School of Despoina Grigoriadou (Top Step of Art Education). Classic Ballet System Vaganova, Pas de Deux, Character, Modern Dance(Graham, Zose Limon, Peter Goss), Anatomy, Music, History of Dance, History of Art, Methodology of teaching ballet and modern dance, Repertory, as well as pedagogically.
She attended non-stop since 1982 annual seminars for the Vaganova System at Sofia and varna. Furthermore, she attended classical and modern dance seminars at the school of John Metsis. She had the luck to have professors big names such as Galina Bogoeva, Risova, Maria Kinigou etc. In 1985 she made her dream come true by creating the first Original school of Rhythmic dance, Classic and Modern dance named «Aliki Diamanti», which is recognized from the state.
She owns a degree at Public Relations from the Business College of St. George. She had attended seminars of Music and Movement from Dora Tsatsou, Agellika Slavec, Lili Arzimanoglou and Maria Kynhgou. From 2011 until 2015 and from 2018 until today she is part of the Committee of Ministry of Culture for the entrance exams as well as the exams for degrees of dance.
In the world of art and dance she is making moves, creating and offering, by «building» and not only powerful, beautiful and healthy bodies, but most of all by altering their personality, due to the discipline and love for the art of Dance.
Dance School Courses
Courses for all ages.

---
---
Rhythic treatment
Improvisation and rhythmic games for children from 3 to 5 years old.
Preparatory courses of dance for children from 6 to 8 years old.
---
Classical Ballet
Chorography and Technique for 8 years old children
Advanced courses of Classical Ballet , Technique, Pointes and Repertoire at ages from 12 to 20 years old.
Modern Dance
for ages above 10 years old.